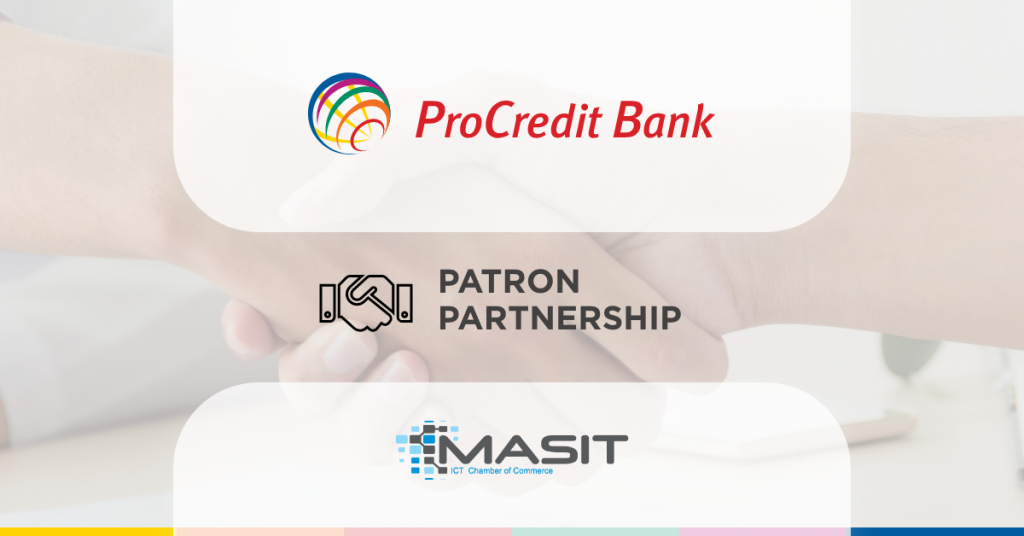 We are pleased to inform you that ProCredit Bank became a Patron Partner of the Information and Communication Technologies Chamber of Commerce – MASIT Skopje. The Patron Partnership emerged as a result of the past many years of cooperation in which ProCredit and MASIT have successfully cooperated on various topics related to the ICT industry with the intention of continuing and deepening the joint cooperation in the upcoming period.
Through this partnership, in the upcoming year ProCredit Bank will support MASIT in its activities to represent the Macedonian ICT industry and promote and represent the business interests of ICT companies in order to promote and develop the ICT industry and business environment.
ProCredit Bank has been a proven business partner for the past two decades. The first and only digital Bank in the country that with its concept of work has an individual approach and high quality service for small and medium enterprises, but also for individuals who want to use simple and modern banking 24/7.
In cooperation with MASIT, ProCredit Bank confirms its commitment and dedication to the ICT sector.
For companies and employees from the the ICT sector ProCredit offers the following benefits and services:
Connecting e-banking with the company's accounting software
Interest on a positive account balance for the company
Special exchange rates
Fixed, predictable commissions for payment operations in the country and abroad
Electronic services package for employees and special lending conditions
Personal advisor from the Bank for the company and the employees
In the forthcoming year ProCredit through the cooperation with MASIT and ICT companies will work on new products suitable exclusively for companies in the ICT sector and for all who want to be informed in more detail about the bank services at disposal is a contact person for clients in the ICT sector: Milan Damcevski , ProCredit Bank – 070 / 353-894, Milan.Damcevski@procredit-group.com.