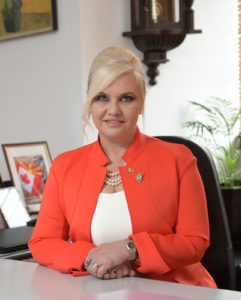 Tax exemption for the ICT industry
Interview of MASIT Managing Board President, Ms. Aneta Antova Peseva for Нова Македонија 
"MASIT proposes a model that will reduce the cost of contributions based on a specific proposal: limit or set an upper threshold for the calculation of contributions"
A special tax treatment for the ICT sector to bring young engineers home is a measure proposed by MASIT's Managing Board President, Aneta Antova Peseva, as one of the steps to be taken next year, for a more successful year for the ICT sector. Implementation of such a measure points to Romania.
MASIT proposes full tax exemption for ICT industry companies. With this tax exemption, we expect companies, payroll and payroll costs to be used to further increase employee salaries and additional benefits, thereby affecting the retention of young people at home and attracting those who have left to return to the country – explains Antova Peseva.
MASIT representatives point out that it is also necessary to change the model of calculating the ICT sector employee contributions.
As a result of the fact that the ICT industry employees have higher average salaries than the average paid salaries in the country, the cost of paying the ICT sector employee contributions is incomparably higher compared to the other sectors.
Following Bulgaria's example, MASIT proposes a model that will reduce contribution-based costs with a specific proposal solution: limit or set an upper threshold for calculating contributions, which would mean calculating the contributions of ICT industry employees to maximum amount of salary that is set as the average wage paid in industry increased by 50 percent – supplemented by Antova Peseva. According to her, this will reduce the fiscal obligations that will leave the companies free space either in order to increase the salaries of the employees or in order to create new jobs.
MASIT's third proposal is to recognize employee-related costs as recognized expenses. According to them, the investments and expenses made to improve the professional abilities and psychological and physical condition of the employees are not recognized and are the basis for calculating the profit tax. She noted, among other things, that ICT companies believe that it is necessary to invest in educational institutions in the country which will directly support the educational process, which should produce professional staff. MASIT's proposal is tax exemption on donations to educational institutions.